Adobe Daze By Tom Tatum
Wolfpack Publishing (2021, 250 pp.)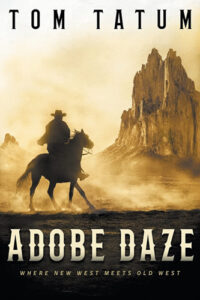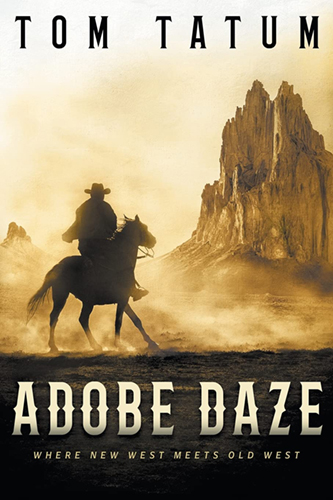 In a land where Spanish land grants collide with ancient Native American hunting grounds and, more recently, Anglo cattle ranches, might makes right.
Former pro extreme skier Trey Stuart powers his parents' black Maserati 650 GT coupe through Aztec, New Mexico, and chats up the waitress at a café in town. She happens to be a national drag racing champion whose father has given her a 1977 Shelby Mustang restored for her graduation from Fort Lewis College in Durango the year before. They decide to head off together, fast, into the sunset.
Except this is just the beginning of Tom Tatum's Wild West romantic suspense novel, and it looks like a dangerous Mexican drug cartel based in Durango has got the Maserati on its radar.
Protagonists Trey and new girlfriend Maria Duran, aka M, both have deep stakes in the territory of southern Colorado and Northern New Mexico: he is the scion of four generations of ranchers at the YbarC Ranch near Telluride; she hails from Apache, Spanish and French ancestors. Trey has been charged with renovating and running another ranch his family owns, near Costilla, New Mexico — his parents, Cooper and July, whose story will be familiar to readers of the previous series title, "Telluride, Top of the World," need help running the Ute Peak Ranch, 40 miles north of Taos. Trey is the only one to maintain it as a moneymaker for cattle, hay and private elk hunting.
"My mother always said farming is way more dangerous than ranching," M tells the fast-driving, wildly risk-seeking Trey. "I believed her until I met you."
Trey keeps a 9mm Glock pistol in the car just in case, as well as a saddle rifle when the pair goes riding on Paint ponies. The latter comes in handy when the Mexican cartel starts tracking the couple, who spy the operation's dropping suspicious parcels from a twin-engine airplane near the Costilla ranch. "He had been raised old Western ranch tough in the rapidly changing new West," Tatum writes of the 26-year-old Trey, with his Serengeti driving glasses and $1,200 pair of black handmade custom cowboy boots.
Tatum's writing style might be described as everything but the kitchen sink, in terms of precisely piled detail about cars and clothing, and stilted dialogue that is determined to advance the action — damn the torpedoes. There is a veritable catalog of people who claim the land. For example, Trey's father's former girlfriend, Adrianna, heads a foundation called Land or Death that is trying to return the land to the original northern Taos County Spanish families. Her exchange with M is brutally forthright:
"Keep your brown eyes open and protect your heart from your Anglo ranch boyfriend," Adrianna warns her. "They all ride for their family's brand."
"I'm a modern Four Corners woman," M angrily informs her. "Your Spanish families stole [my mother's] tribal land before the Americanos stole the Spanish king's land grants. Her ancient people actually chose real Land or Death."
Triumphantly, the heroes of this over-the-top tale (of fantastical cultural appropriation) prove none other than the War Chief's council of Taos Pueblo. It is time, the Pueblo Warriors resolve, to face down the drug lords on their own terms.
Originally published by TAOS NEWS – 10/7/2021