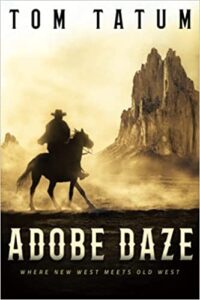 ADOBE DAZE my third novel is the sequel to TELLURIDE TOP OF THE WORLD. The Telluride novel, which is set in 1989-90, spans the Four Corners. The YbarC ranch is it's center with Cooper Stuart the young protagonist, his Ute friend Joe Bear Spirit, and Judy his girlfriend.  When I began to outline the sequel I decided it should be today contemporary, feature cutting edge subplots and current New West Series characters. I set it on the in Northern Taos County New Mexico, which Cooper and his now wife Judy had acquired. I shifted the focus to Northern New Mexico and Southern Colorado and their three complex historical cultures. Therefore the Pueblo Indians, the Spanish Settlers' families of New Spain and the American Anglos weave a complex set of subplots around my new characters.
Trey Stuart the protagonists is the mid twenties year old son of Cooper and Judy. He grew up on the YbarC ranch and is sent to operate the family's Ute Peak Ranch in Taos County. His girlfriend in Marie Duran or M as I named her. She is the most interesting character I have written to date. Her heritage is half New Mexico Apache and half old family Spanish from Durango Colorado. She is a recent graduate of Fort Lewis College in Durango. She is a National Drag Racing champion driver and rides a horse like the wind She is a modern brave western woman.
Together Trey and M thread their way thru water rights and land rights wars between the Anglos, Spanish and Pueblos. They are attacked by the new Aztecs, which is the Mexican Cartel, It's currently causing chaos and death in the Southwest and New Mexico. It's running the drug trade with it's high death rate.
While Cooper and Judy eventually ride the round up with Trey and M, it's the young generation that joins the battle. Trey and M are at the epicenter of the water, land and drug wars that are front burner in Taos and Northern New Mexico today. Surrounded by corrupt lawmen, Cartel gunmen and land and water right activist Trey and M pick there way thru the smoke from their historic sprawling adobe Hacienda they live in on the Ute Peak Ranch. It's a wild ride with unexpected turns at every corner. It's reality on the New Mexico and Colorado border today masked by the regions scenic mountain and valley beauty. It's steeped in the blood of its historic violence between the cultures under the umbrella of the Spanish Kings, Pueblo Chiefs and the US government. Trey and M are the leaders of the new generation that will lead the New West.
Thank you Wolfpack Publishing for the re-release of my first two books in the trilogy and my latest Novel.