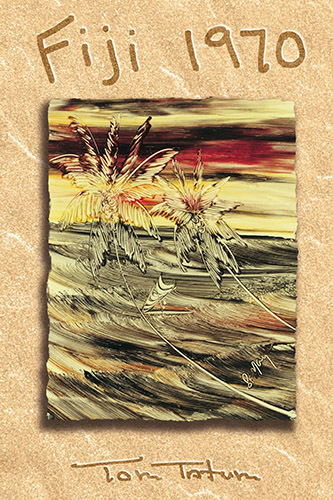 Other Purchase Options
"Once readers start the journey with Cooper, the sights, sounds, people and spirits of Fiji will remain in their thoughts forever."
In the tradition of Ernest Hemingway, James Michener, and Zane Grey, Tom Tatum has created a retro-classic novel about the exotic island nation of Fiji.
It is a story whose pages will not stop turning as Cooper, an idealistic young American Peace Corps Volunteer ventures beyond the edge of his own culture's reality limits.
The novel follows Cooper's quest to help the Islanders balance their needs against those of the invading modern world. The events of his last year in Fiji during 1970, foreshadow a shocking murder that takes Cooper on a search for clues leading him into the spiritual world of the Island's animistic gods and the darkest reaches of human nature.
Through Cooper's eyes and recollections in narrative style, the reader will enjoy the sensual eroticism of an unspoiled natural paradise only recently connected to the world's grid of jetliners.
Once readers start the journey with Cooper, the sights, sounds, people and spirits of Fiji will remain in their thoughts forever.
Book Details
Paperback: 318 pages
Publisher: Xlibris (January 11, 2007)
Language: English
ISBN-10: 1425722350
ISBN-13: 978-1425722357
Product Dimensions: 6 x 0.7 x 9 inches
About The Author
Author, TV & Film Producer/Director, Conservation Advocate, Scholar, Husband, and Father. A veteran of the entertainment business, Tom Tatum's newest book, Telluride-Top of the World, is the much-anticipated sequel to Fiji 1970. As an accomplished film and TV producer, Tatum's work has been seen by a worldwide audience and includes notable titles like Double High, Winners Take All and Greenpeace's Greatest Hits. When not running Ute Peak Solar, Inc., roping and riding on his Ute Peak Ranch in New Mexico or spending time with his beloved wife, Kathryn, he can be found skiing the "white gold" on the vast slopes of Telluride.