I have optioned the Screenplay for the Motion Picture NO MANS LAND with my film-producing partner Jon Davison (AIRPLANE, ROBOCOP, STARSHOIP TROOPERS and more).  It's an original 1880's Western movie set in New Mexico. We had planned to produce it starting in August 2019 but because of the Covid-19 shut down of the motion picture industry in New Mexico by the Governor we cannot proceed this year. We are now anticipating starting location production of NO MANS LAND in the late spring or summer of 2021 with New Mexico location film protocols and hopefully a vaccine. We have started assembling an experienced period Western Motion Picture crew for all the departments including wrangling the show and stunt horses under our Director.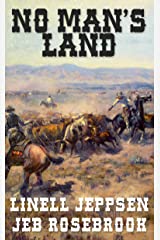 It's an exciting and historic motion picture, which will capture the characters; the danger and the intrigue of the real dusty dirty Old West.  Jon and I have spent a lifetime producing Film and Television stories that keep you on the edge of your seat. Watch for updates in TRUEWEST magazine.
On my author front I have completed my new novel with the working title ADOBE DAZE, which is set on a ranch in Taos County New Mexico but spills into Southern Colorado. It's the sequel to my novel TELLURIDE TOP OF THE WORLD and the final novel in my trilogy, which started with FIJI 1970. See tomtatumauthor.com for reviews of the first two novels and to order them. The trilogy follows the Stuart family led by Cooper and his eventual wife Judy from 1970 to 2019 on its big YbarC ranch near Telluride Colorado. It's a new west old west saga with romance, greed, land and water fights, drug gangs, gunfights, gold, Native Americans, Anglo ranchers, Spanish Settlers, cows, horses, pickups, trout and mountain lions.
Trey Stuart the 20 something son of Cooper Stuart is the protagonist in ADOBE DAZE with Maria Duran or M as her friends call her. M is half Spanish and half Apache. The action story unspools when Trey is sent by his father to run their other ranch in Northern New Mexico near Taos. Hooves thunder like the drag racing machines that M drives.  Bullets fly from drug gangs at Trey and the cowhands. Tension flares in New Mexico's Anglo, Spanish and Pueblo Indian cultures over land and water.  All of this is set in the ambience of the legendary Taos artists' community with romance under the greatest sun light and magic hour sunsets in the world locally called vista del ocasos.
Follow my website for update on the new novel and its release date.
Tom Tatum
Author and Film/TV Producer